This store requires javascript to be enabled for some features to work correctly.
ABOUT US
SETTING THE STANDARDS IN LEATHER CARE SINCE 1976 For over 45 years, our company has been a trusted expert in leather care. Our formulas are crafted with the highest standards of quality, prioritizing exceptional customer service and satisfaction. Our team is dedicated to providing the best possible service to our customers, delivering products that aim to exceed expectations. Trust us for your leather and keep it looking and feeling its best with our decades of experience in the industry.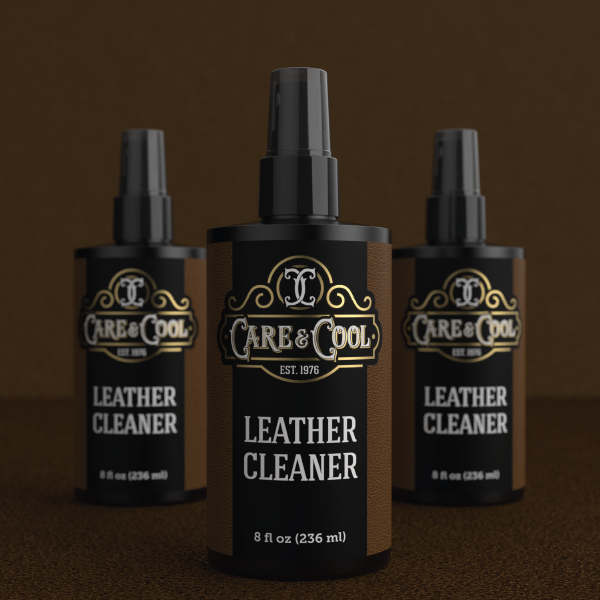 Care & Cool Leather Cleaner is a high-quality cleaning solution that has been developed specifically for use on leather surfaces. Its advanced formula contains powerful cleaning agents that are able to penetrate deep into the pores of leather, effectively removing dirt and grime buildup.
In this guide, you'll find step-by-step instructions for using our Care & Cool Leather Cleaner, along with valuable tips and precautions. Thank you for choosing Care & Cool, and let's get started on cleaning your leather items!
Penetrating deep into the pores of leather and removing embedded dirt and grime. 
Providing to allow leather to breathe and retain its natural suppleness with regular use.
Protecting the pH balance of your leather items, which contributes to their long-term protection and preservation.
Maintaining and protecting the beauty and integrity of leather items for years to come.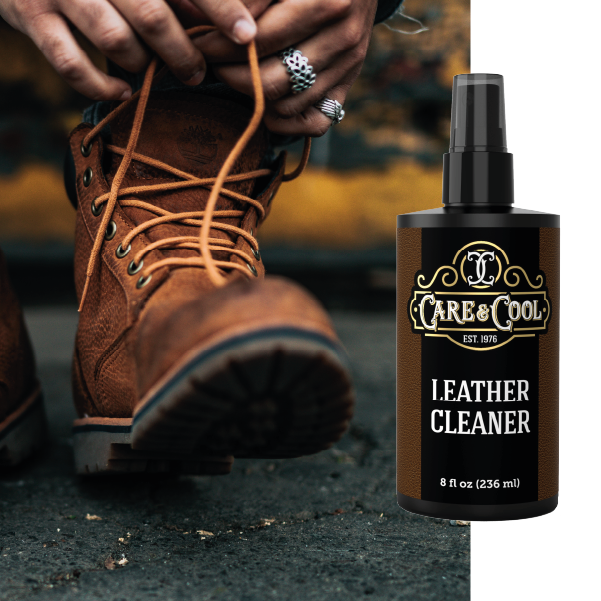 Penetrates deep into leather pores for thorough cleaning with its advanced formula.
Nourishes and protects leather with conditioning agents to prevent drying and cracking.
Maintains the optimal pH balance of leather, forming a protective barrier to prevent damage and ensure long-term durability.
Helps restore the natural tone and finish of leather items.
Easy to apply and dries quickly, leaving no sticky or oily residue.
Regular use extends the lifespan of leather items and reduces the need for costly repairs or replacements.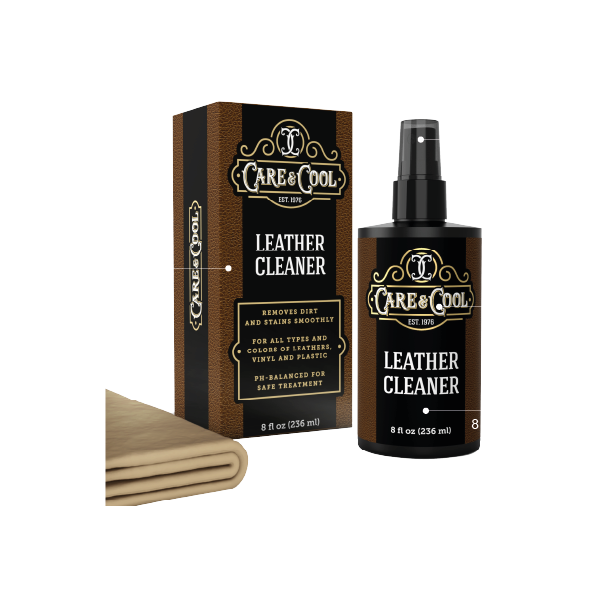 PRODUCT SPECIFICATION
Suitable for all types of products made of natural, patent and faux leather
The Care & Cool Leather Cleaner is specially designed to clean a variety of materials, including:
HOW TO USE ?
FOLLOW THE STEPS
If the leather item is heavily soiled or has not been cleaned in a long time, repeat the cleaning process as needed until the desired level of cleanliness is achieved.
Use the product sparingly and avoid saturating the surface. Excessive use of the product may cause damage to the leather material. Only a small amount of the product is needed to achieve the desired results. Always follow the instructions provided on the label and use as directed. If you have any concerns about the application process or the amount of product to use, please consult our customer service team for assistance.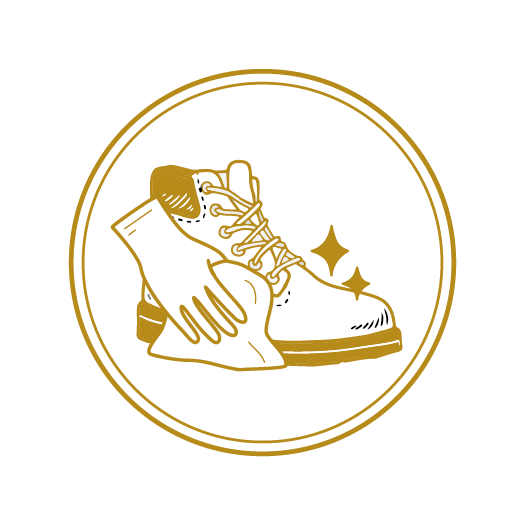 PREPARE
Before applying Care & Cool Leather Cleaner, remove any surface dirt or mud from the leather item using a soft brush or cloth. This ensures that the Leather Cleaner can penetrate the pores of the leather and remove embedded dirt and grime.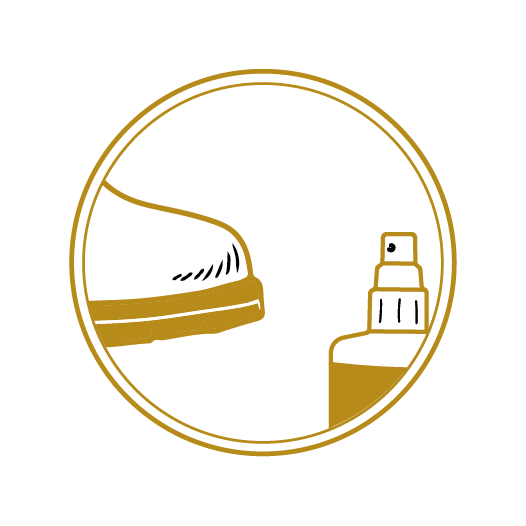 TEST
Before using the cleaner on your entire item, we recommend testing it on a small, inconspicuous area first. This will allow you to see how the cleaner affects the color and texture of your leather. Apply a small amount of the cleaner to the test area and let it dry completely. If you are satisfied with the results, you can move on to applying the cleaner to the rest of the item.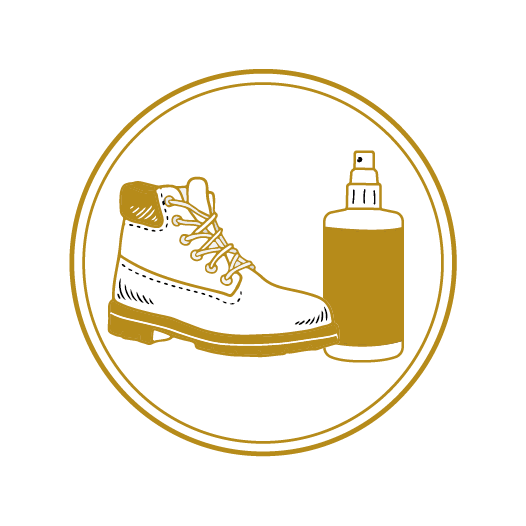 APPLY
Spray the leather cleaner onto the hi-tech cloth and clean the leather item using gentle circular motions, paying particular attention to any areas with embedded dirt or grime.
If you are cleaning a large leather item, such as a sofa or car interior, work on one section at a time to ensure that you do not miss any spots.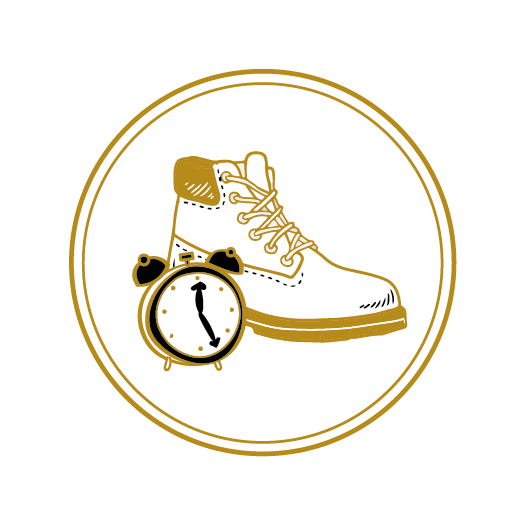 DRY
After applying the cleaner, allow the item to air dry completely before using or wearing it. Drying time can vary depending on the size and thickness of the leather item, as well as the level of humidity and ventilation in the room. Do not expose the item to direct sunlight or heat sources while it is drying.
FOR BEST RESULT
Treat Stains Promptly
It is important to treat stains as soon as possible with Care & Cool Leather Cleaner. This is because stains can set into leather over time and become more difficult to remove. By treating stains promptly, you increase the chances of successfully removing the stain and avoiding permanent damage to your leather item.
Moisturize
After using Care & Cool Leather Cleaner to remove dirt and grime follow up with Care & Cool Leather Conditioner to further nourish and protect the leather and prevent drying and cracking of leather items.
For Stubborn Stains
There are some stubborn stains, such as cocoa, blood, grease stains, ink stains, and red wine, that penetrate into the leather molecules, making them difficult to clean with a regular leather cleaner. For these and similar stains, it is recommended to seek professional help from a leather cleaner or restoration specialist.
Store Properly
Store the leather item in a cool, dry place away from direct sunlight or heat sources. This will help prevent any discoloration or damage to the leather.Avoid folding or compressing the leather item during storage, as this can cause creases and wrinkles to form.
Taking care of your leather items is essential to maintain their longevity and appearance. Leather, although durable, is susceptible to the harmful effects of moisture. When exposed to water or other liquids, leather can absorb the moisture, leading to permanent damage such as warping, cracking, and loss of flexibility. Additionally, spills and stains can mar the natural beauty of leather, diminishing its visual appeal and overall quality.
Care & Cool Leather Cleaner is a premium product designed to keep your leather items in pristine condition. Our cleaner is formulated to gently yet effectively remove dirt, grime, and stains without compromising the integrity of the leather. With regular use of our cleaner, you can ensure that your leather items maintain their supple texture and exquisite sheen for years to come.
Regular maintenance with Care & Cool Leather Cleaner also helps prevent the accumulation of dirt and oils that can dull the leather's appearance over time. By gently cleansing the leather surface, our cleaner revitalizes its natural beauty, ensuring that it retains its luxurious feel and timeless elegance.
Make sure to keep the bottle tightly sealed to prevent the cleaner from evaporating and leaking.
Keep out of reach of children and animals. Avoid contact with eyes. If contact occurs, flush eyes thoroughly with water and seek medical attention if necessary. Do not swallow or take internally. If swallowed, seek medical attention immediately. Use only as directed on the label.
A Safety Data Sheet (SDS), formerly known as Material Safety Data Sheet (MSDS), is a document that provides detailed information about the potential hazards and safety precautions for a specific chemical substance or product. It is intended to provide essential health and safety information to ensure the safe handling, storage, transportation, and disposal of the substance or product.