This store requires javascript to be enabled for some features to work correctly.
ABOUT US
SETTING THE STANDARDS IN LEATHER CARE SINCE 1976 For over 45 years, our company has been a trusted expert in leather care. Our formulas are crafted with the highest standards of quality, prioritizing exceptional customer service and satisfaction. Our team is dedicated to providing the best possible service to our customers, delivering products that aim to exceed expectations. Trust us for your leather and keep it looking and feeling its best with our decades of experience in the industry.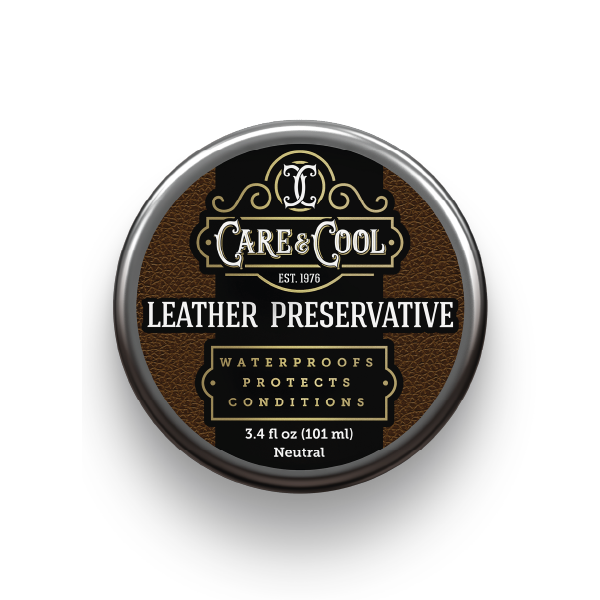 Care & Cool Leather Preservative is the ultimate solution for protecting and restoring leather items of all kinds. Our product is specially designed to provide a strong, durable finish that shields leather from harmful elements while restoring its natural oils and vitality. Our unique formula contains a powerful blend of ingredients that effectively conditions both new and used leather, leaving behind a beautiful and polished appearance that is sure to impress. Whether you're looking to protect your leather shoes, jackets, bags, furniture, or other leather items, Care & Cool Leather Preservative is the perfect choice to keep your leather looking and feeling like new.
Safeguarding leather items against liquid damage and other detrimental elements.
Establishing a robust waterproof membrane on leather surfaces.
Conditioning and revitalizing leather by replenishing essential oils and vitality.
Furnishing a long-lasting finish that safeguards leather from dust, chemicals, and abrasion.
Prolonging the longevity of leather products by preserving their quality and flexibility.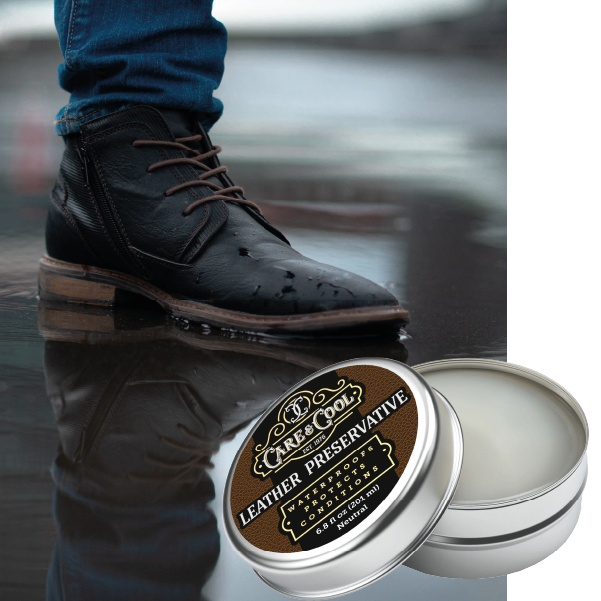 Highly effective waterproofing solution for leather items.
Creates a robust waterproof membrane on the leather.
Revives and rejuvenates leather items using a unique wax formula, leaving no residue behind.
Deeply penetrates the pores of leather for long-lasting protection.
Conditions leather items while replenishing lost oils and vitality.
Leaves behind a beautiful and polished appearance.
Shields leather items from harmful elements such as dust, salt, chemicals, and abrasion.
PRODUCT SPECIFICATION
Suitable for all types of leather, except suede, nubuck, patent, faux or exotic leather
Materials that can be used with Care & Cool Leather Preservative:
HOW TO USE ?
FOLLOW THE STEPS
For maintaining the leather's condition and best results, repeat the process as needed. The frequency of application depends on the usage and condition of the leather.
Use the product sparingly and avoid saturating the surface. Excessive use of the product may damage the leather material. Only a small amount of the product is needed to achieve the desired results. Always follow the instructions provided on the label and use as directed. If you have any concerns about the application process or the amount of product to use, please consult our customer service team for assistance.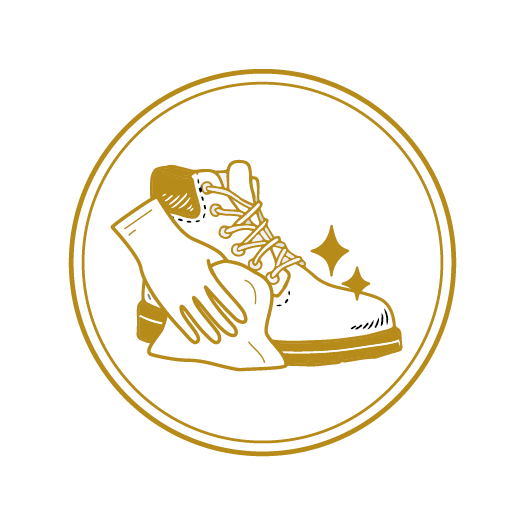 PREPARE
Thoroughly clean the leather item to remove any surface dirt or grime. For best results, use Care & Cool Leather Cleaner. Allow the leather to dry completely before proceeding.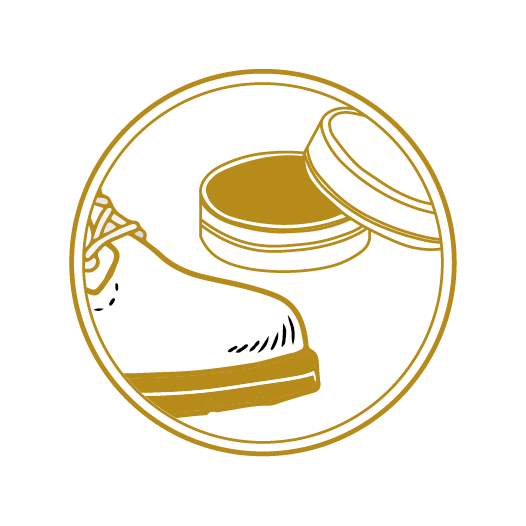 TEST
Before applying Care & Cool Leather Preservative to the entire item, we recommend testing it on a small, inconspicuous area first. This will allow you to observe how the leather preservative  affects the color and texture of your leather. Apply a small amount of the Leather Preservative to the test area and gently rub it. If you are satisfied with the results, you can proceed to apply the leather preservative to the rest of the item.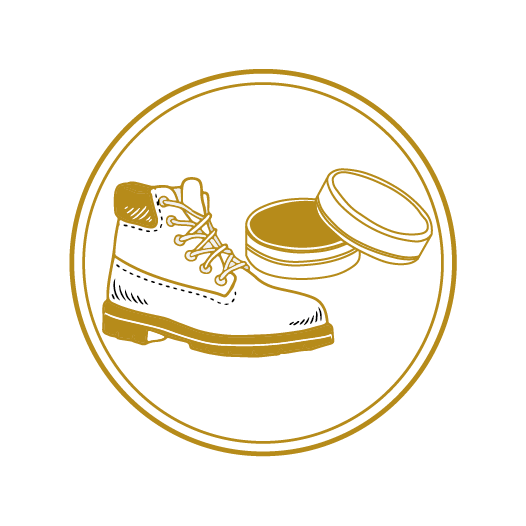 APPLY
Using a cloth or sponge, apply a small amount of Care & Cool Leather Preservative to your item. Start by applying a thin and even layer of the preservative onto the leather surface. Work in small sections for larger items. Gently massage the preservative into the leather using circular motions. Make sure to achieve complete coverage, paying extra attention to areas that may be more susceptible to drying or cracking.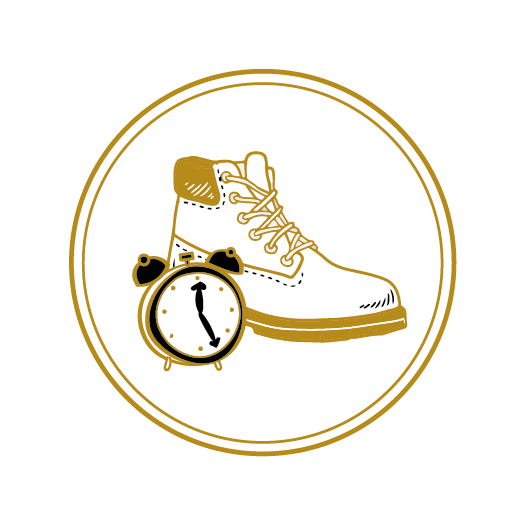 DRY
After applying the leather preservative, allow the item to dry completely before using or wearing it. Do not use or touch the leather until it is completely dry. This ensures that the leather preservative is fully absorbed, resulting in optimal results. The drying time may vary depending on the level of humidity and ventilation in the room, typically taking a few  hours. Avoid exposing the item to direct sunlight or heat sources during the drying process.
FOR BEST RESULT
Use on Clean, Dry Leather
For optimal results, it's crucial to apply the Leather Preservative on clean and dry leather. Any dirt or debris present on the leather can hinder the product's ability to penetrate and safeguard the leather.
Apply Liberally
Apply the Leather Preservative generously to ensure thorough penetration, creating a robust waterproof membrane. Give special attention to seams and stitches, as these areas are often most vulnerable to moisture-induced damage.
Allow Complete Drying
Allow the Leather Preservative to dry completely before using the item. This guarantees full penetration of the product into the leather, resulting in a sturdy and long-lasting waterproof membrane.
Caution with Specific Leather Types
Please be aware that the Care & Cool Leather Preservative is not suitable for use on suede, nubuck, patent, faux, or exotic leathers like crocodile. Always follow instructions meticulously and use the product as directed.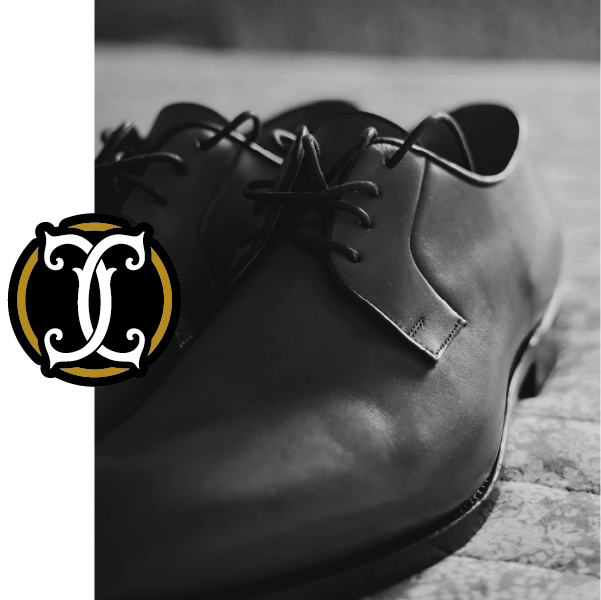 Regular Cleaning for Leather:
It's important to clean leather items regularly to eliminate accumulated dirt, dust, and debris. Employ a soft, damp cloth or sponge to gently cleanse the leather, taking care not to apply excessive pressure that might harm the surface.
Consistent Conditioning of Leather:
Regular conditioning is essential to maintain leather's suppleness and prevent cracking. Utilize a high-quality leather preservative or conditioner that matches the leather type you're treating.
Protection Against Water and Moisture:
Safeguard leather against water and moisture, which can lead to fading and cracking over time. You can utilize Care & Cool Leather Preservative to shield leather items from potential water and moisture damage.
Proper Leather Storage:
During periods of non-use, store leather items in a cool, dry location, away from direct sunlight and heat sources. Steer clear of plastic bags or non-breathable materials for storage, as they can foster moisture buildup and harm the leather.
Avoid Extreme Temperatures:
Shield leather from extreme temperatures, both hot and cold, as such conditions can induce drying and cracking.
 By diligently adhering to these recommended care techniques for leather, you can effectively sustain the quality and durability of your leather items, ensuring their longevity for years to come.
Make sure to keep the bottle tightly sealed to prevent the preservative from evaporating and leaking.
Keep out of reach of children and animals. Avoid contact with eyes. If contact occurs, flush eyes thoroughly with water and seek medical attention if necessary. Do not swallow or take it internally. If swallowed, seek medical attention immediately. Use only as directed on the label.
A Safety Data Sheet (SDS), formerly known as Material Safety Data Sheet (MSDS), is a document that provides detailed information about the potential hazards and safety precautions for a specific chemical substance or product. It is intended to provide essential health and safety information to ensure the safe handling, storage, transportation, and disposal of the substance or product.