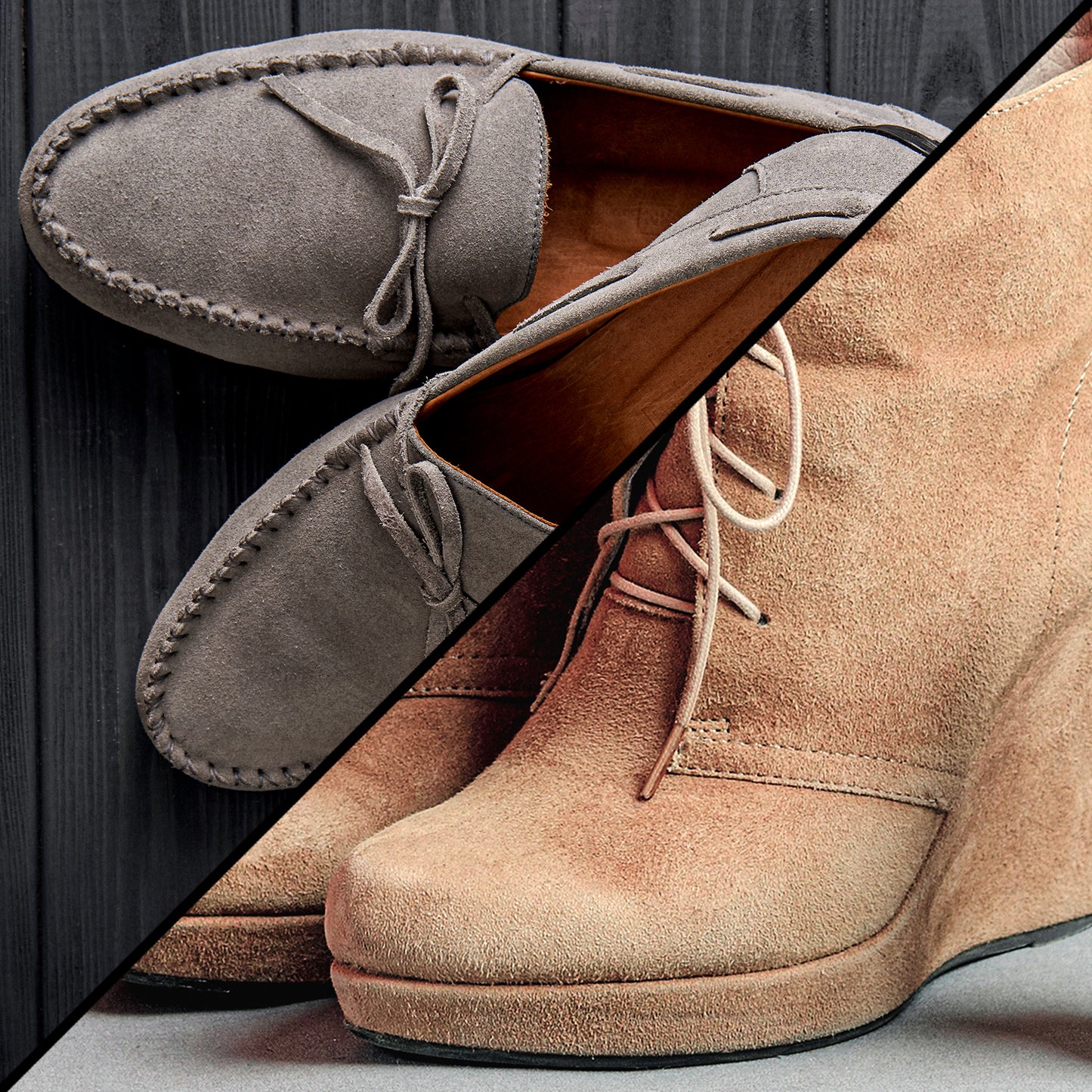 HOW TO CONDITION AND PROTECT SUEDE & NUBUCK?
Suede and Nubuck are two elegant sides of the same story, sanded leather. Nubuck is produced by sanding the tougher, sturdier outside of leather hide, while suede is produced by sanding the softer inside. Both leather types result in that soft, fuzzy finish that brings so much tactile pleasure and elegance to special items such as gloves, purses and handbags, as well as quality shoes, boots and jackets. Often, too, such products are purchased in lighter colors that bring out the beauty of the finish.

Yet over time, wiping away surface dirt is only half the story. To maintain their vitality and surface integrity suede and nubuck items require more protection than classical leather. We know, because we have been researching and developing formulas to preserve leather's natural elegance and hardiness since 1976.

The waterproofing spray provides a protective layer against rain, water, and mud to items more quickly impacted by moisture.

Care & Cool Suede and Nubuck Conditioner nourishes and revitalizes suede and nubuck, returning its original charm and character. And it restores the oil and elasticity lost by dried and worn leather.

How To Use Suede and Nubuck Conditioner?

1st Step, Clean: The surface of the leather to be applied must be thoroughly cleaned. We recommend Care & Cool Leather Cleaner for the cleaning process.
2nd Step, Test: Before using on your items, we recommend that you test it on a small area of the leather as some darkening may occur at first. Darkening is caused by the oil content that works to nourish the leather and is common to all products.
3rd Step, Apply: Liberally spray directly onto your items without the use of a cloth or brush, as they can damage the waterproofing layer that the spray provides. The spray head ensures effective application to the entire item.
4th Step, Allow to Dry: The application may be repeated as often as required.